One of the lesser known goals available in Infusionsoft is an API call. By making a specific API call you can achieve this goal to move a contact through a campaign.
The goal has two parameters: Integration and Call Name. These can be anything you want but if you have multiple goals with the same integration and call name, then they will all be achieved by the same API call.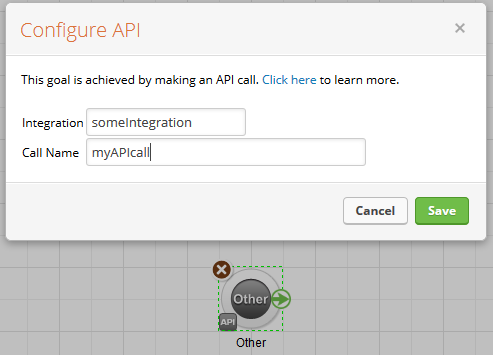 To achieve the goal, you make a FunnelService.achieveGoal API call with the integration and call name you configured in the goal, and the contact ID you'd like to achieve the goal for.
If you are using the free Novak Solutions Infusionsoft PHP SDK, then you could do something like this:
<?php

// Include the SDK
require_once('Infusionsoft/infusionsoft.php');

// Set the contact ID
$contactID = 123;

// Call the achieveGoal method
Infusionsoft_FunnelService::achieveGoal('someIntegration', 'myAPIcall', $contactID);
I hope this helps you in building your own integrations!